Although this issue is scary, this information just may save your life!
Oral cancer screenings are a very important part of your dental visit. Although oral cancer may not get as much attention as some more widely-known types of cancer, that doesn't mean it's any less deadly. In fact, it is estimated that in the United States, oral cancer is responsible for killing one person every hour, every day. While it accounts for a relatively small percentage of all cancers, oral cancer is dangerous because it isn't usually detected until it has reached an advanced stage. At that point, the odds aren't great: only about 6 in 10 people will survive after five years of treatment. With the advances in modern technology, we are now able to pinpoint the start of a potential problem much earlier in its evolution. The ability to do so is extremely important in being able to treat any issues prior to them becoming a major irreversible problem.
The oral cancer screening is often completed with an ultraviolet light or similar device that allows us to view issues that can't always be detected by the human eye under normal conditions. Certain lifestyle choices can have a great impact on the health of tissues and your overall health in the mouth. If you are a smoker or heavy drinker, make sure to get regular screenings when you visit your Wellington, Royal Palm Beach dentist.
Call Your Wellington, Royal Palm Beach
Dentist to Schedule Your Screening Today 561-795-7668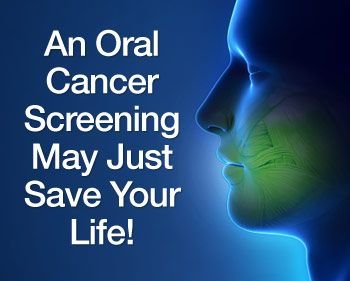 If there was a simple test that could give you an early warning about whether you're likely to have this disease, would you take it? The good news is — there is! Since early detection has been shown to increase the survival rate of oral cancer to 80% or better, this test can truly save lives. And best of all, having an oral cancer screening is part of something you should be doing anyway: getting regular dental checkups.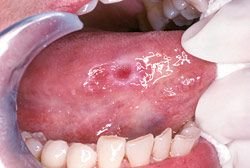 The screening includes a visual assessment of your lips, tongue, and the inside of your mouth, including a check for red or white patches or unusual sores. You may be palpated (pressed with fingers) to detect the presence of lumps and swellings, and your tongue may be gently pulled aside for an even better view. A special light, dye, or other procedure may also be used to help check any suspect areas. If anything appears to be out of the ordinary, a biopsy can be easily performed.
If you notice abnormal sores or color changes in the tissue of your mouth, lips and tongue, they may be a symptom of oral cancer — most, however, are completely benign. But sores or other unusual changes that haven't gone away by themselves after 2-3 weeks should be examined. Remember, the only way to accurately diagnose oral cancer is through a laboratory report. Early diagnosis, aided by thorough screenings at your regular dental checkups, is one of the best defenses against oral cancer.
Call Your Dentist in Wellington, Royal Palm Beach to Schedule Your Oral Cancer Screening Today 561-795-7668