Improve Your Smile Forever - Dental Implants are Ideal for
Replacing Missing Teeth
It does not matter the cause of the tooth loss, dental implants can be the answer, no matter if the teeth have been missing for years or just recently extracted. Implants have the highest rate of success of any product in dentistry. They are a permanent solution for teeth replacement without compromising the healthy tooth structure of the adjacent teeth.
What Are Dental Implants?
Dental implants are small titanium posts that replace the roots of missing or extracted teeth. They are inserted into your jawbone during a minor surgical procedure at our Royal Palm Beach, FL dental office. Then we can put natural looking porcelain crown on it giving you a beautiful smile.
Implants are a permanent solution to tooth loss. Get your dental implants in Royal Palm Beach, FL at Family Dentist of Palm Beach. Call 561 795-7668 today to schedule your FREE consultation!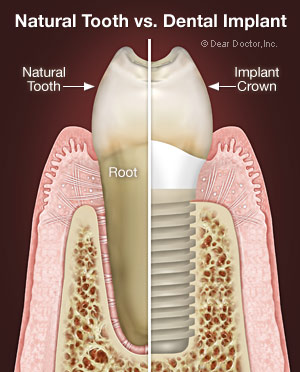 How Do Dental Implants Work?
The implant process consists of several parts:
-The placement of implant serves as the root of the tooth.
-The abutment that attaches to the implant and extends to support the replacement tooth.
-The crown made of porcelain or zirconia is the part that looks like a tooth. This is screwed or cemented onto the abutment.
-The time frame for the whole process depends on many factors. However, when you come to your Wellington, Royal Palm Beach, FL dentist, she will review the specifics of your case.
Hybrid Implant Denture
Types of Implants
Various types of implants include full upper and lower, anterior, posterior, and single-tooth:
Full upper replacements - The upper set of teeth is replaced with implants.
Anterior replacement - Implants are used to replace the front teeth (also called incisors and cuspids).
Full lower replacement - The lower set of teeth is replaced with dental implants. Full lower replacement usually only uses four to six implants (near the front), which are used to anchor a denture. This obviates the need for denture adhesive.
Posterior replacement - Implants are used to replace the bicuspids and molars (the back teeth).
Single tooth replacement - Implants can be the fix to one missing tooth without harming the neighboring health teeth.


Is Dental Implant Surgery Painful?
Most people find dental implant procedures very easy to tolerate. Any post-operative discomfort can usually be managed with over-the-counter pain relievers such as ibuprofen.

Benefits of Implants
-Prevent bone loss
-Replace single or multiple teeth
-Prevent tilting and shifting of surrounding teeth
-Provide stability and support of a denture and eliminate slippage and tissue irritation
-Prevent difficulties with speech, eating and socializing that come with traditional dentures
Dental implants could be the option you are looking for. They are sturdier and durable than conventional bridges, dentures and so completely natural looking that no one will know you have them unless you say so!
Call the best implant dentist in Wellington, Royal Palm Beach, FL
Get the Smile of Your Dreams!